Multiple Mulch & Stone Ground Coverings For Kitchener & Waterloo
Few minor landscaping changes have the visual effect that an effective mulch, stone, or other ground covering has. We offer multiple selections of mulch and stone ground coverings to the Kitchener and Waterloo areas, and have the mulch installation services to match.
In addition to looking great, proper mulch installation and decorative stone installation protects your garden and provides additional moisture to its soil. This simple solution alone can help make for a more beautiful, more healthy garden over time.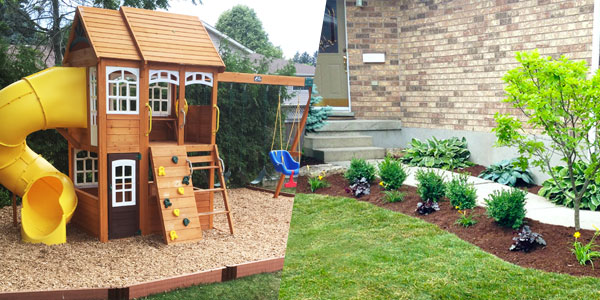 An attractive stone ground covering can be an attractive option as well, providing a pleasing aesthetic appearance, additional walking grip, and ensuring proper drainage to key areas.
While it may seem like a simple job, the proper installation of ground coverings is highly encouraged in order to be able to take advantage of all of the benefits that each has to offer. Give us a call and we'll take care of it!
Beautiful Mulch Selections

We offer property owners in the Kitchener and Waterloo areas multiple beautiful mulches to choose from. We will meet with you to discuss not only your colour preference, but help you understand the benefits that properly installed Mulch can have on your garden space, including: Lower on-going garden maintenance, increased moisture retention, and an overall more beautiful property.
Perfect Stone Ground Coverings

Decorative stone ground coverings can not only make an astounding visual impact to a property, but can help with some of the more important considerations as well. Our trained, professional staff will meet with you to discuss our stone selection and their benefits so you can be sure you're getting not only the best looking, but best performing product to fit your property's needs.
Contact us today for a FREE, NO OBLIGATION ESTIMATE for mulch and/or stone installation.