Retaining Wall Design & Installation For Kitchener & Waterloo Area Properties
Retaining walls have multiple purposes in landscape design. Some are used as walls for raised flowerbeds, where others are used to secure large volumes of soil to prevent erosion or to provide a flat surface on the top level. Whatever the reason, the safe and proper construction of retaining walls is very important. Our highest priorities when designing and building retaining walls for our Kitchener and Waterloo area clients are safety, and the longevity of life of your retaining wall.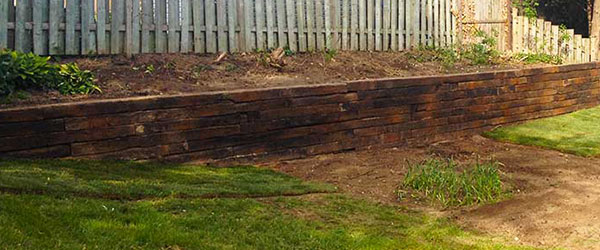 Contact us today for a FREE, NO OBLIGATION ESTIMATE:
We Meet Safety & Building Codes
We build all retaining walls to meet all safety and building codes to ensure they are safe and will last the test of time without shifting or deteriorating. The improper construction of retaining walls not only costs the property owner extra money in the long run, but can also be a danger to the property users. That's why we take extra care, and put quality time and effort into what we do.
Get Your Free Estimate!
Your Choice of Building Materials
Each retaining wall project is different. We're happy to offer our clients a number of different choices for the appearance of their retaining walls. We have experience with stone, brick, wood and even railway ties. We'll work with you to select and install the perfect building materials for your unique project. Contact us today for a free estimate to get your next project started.
Get Your Free Estimate!
Contact us today for a FREE, NO OBLIGATION ESTIMATE for a new retaining wall.