Commercial and Residential Landscaping Services
If you're a commercial business or property owner in the Kitchener/Waterloo area, chances are you're short on time and your property's landscaping and snow removal might just be one of the last things on your mind. We'll take care of it.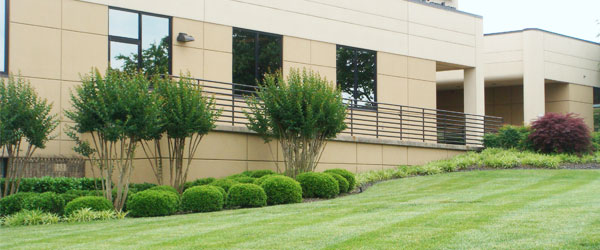 We've got services and programs that appeal to businesses and properties of all sizes. We'll come in and take care of everything from snow removal, to grass cutting; we'll even take care of the complete design of your hard and soft scape! Our commercial and property landscaping services are thorough and customizable because we realize that everyone has their own unique requirements.

Recommended: Spring
A great way to start off the green season and start enjoying the sun! A basic spring clean up can include: Overseeding, Dethatching, Core Aeration, and Fertilization.

Recommended: Spring | Summer | Fall
The classic necessity for all properties. Keep your lawn looking pristine all season long by letting us take care of the cutting.
$90-$110/month*
$60 bi-weekly*
*Starting Price

Recommended: Spring | Summer | Fall
One of the most striking and dramatic changes you can make to your garden and property is the installation of some beautiful mulch that nicely compliments your landscape.

Recommended: Spring | Fall
If your lawn is starting to look old or worn out, it may need overseeding. Overseeding is the planting of grass directly into existing turf. It's an easy way to fill in dead spots and improve turf density.
$150.00*
*Starting Price includes topsoil and seeding.

Recommended: Spring | Summer | Fall
Aside from mowing and watering, one of the most important things you can do for your lawn is fertilize it. This provides proper nutrition for your grass to keep your lawn looking top-notch. Our fertilizing process helps to achieve that beautiful, vibrant green lawn you dream of.
$50.00*
*Starting Price

Recommended: Spring
Lawn aeration improves the exchange of air and gas to the roots, as well as maximize the intake of water and nutrients. The aeration process over time will help reduce soil compaction, enhance deep-root growth and will decrease water runoff.
$55.00
*Starting Price

Recommended: Spring
Dethatching is the process of removing dead grass that builds up beneath your lawn. Dethatching is suitable for thinning grass and lawns with a thick layer of thatch. We recommend combining dethatching with overseeding and fertilizing.
$50.00
*Starting Price

Recommended: Spring | Summer | Fall
Keep the grass under control and create beautiful straight or curved edges around your flower beds, driveways, sidewalks, and patios. A fantastic finish to any property.
$50-$100*
*Contact for accurate quote.

Recommended: Fall
We take your leaves away! No more hassles with bags! Put an end to leaves blowing back onto your lawn!
From $80.00/hr*

Recommended: Spring | Summer | Fall
We're available for almost any landscaping project you've been planning. Our services include, but are not limited to:
Click here for more information.

Recommended: Winter
Clearing the snow and ice from your property makes your entire property safer for you, your employees, and your visitors/clients. We'll be by within 24 hours to clear the snow after snowfalls greater than 5 centimetres. We offer snow removal services on a monthly basis.
Contact For Quote*

Recommended: Winter
Removal of ice is very important during the winter season. Ice can often be unseen and is one of the leading causes of injury during the winter season. Take some of the risk out of winter and bring us in to do your salting. We'll be there when snowfalls exceed 2cm, or after freezing rain.
Contact For Quote
Need Multiple Services? Try Our Programs!
Commercial clients typically like to make use of many of our services in order to best take care of their property. To better accommodate their needs, we offer landscaping programs to make the process easier and save our clients some hard-earned money.
See Our Programs >>
Four seasons of the year
Spring through winter, we have services to keep your business looking pristine. Your business is not closed for one, two, or three seasons of the year and neither are we. We're available for your commercial property on-call, all year.
Get a Quote >>