Sod Installation For The Kitchener & Waterloo Areas
A lush, green, professionally laid lawn can dramatically improve the look of any Kitchener and Waterloo home or business.
Our sod installation services are used for all project sizes. From small patches to complete lawn resurfacing, we can help. If your lawn, or a section of it, is losing its vibrancy it could be due to weed problems, insect damage, drought, or even just old age, it may be time to consider replacing the affected areas with fresh, new, vibrant-green sod.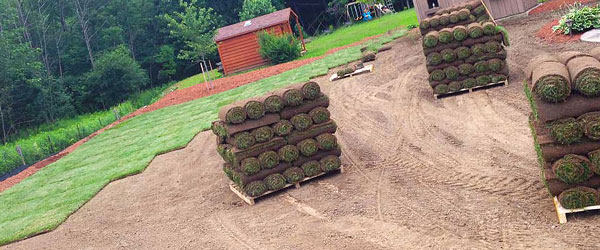 Contact us today for a FREE, NO OBLIGATION ESTIMATE:
Why Hire Professionals for Sod Installation?
Simply, you'll save time and money in the long-run. Our professional installers ensure that your lawn is laid correctly, and the drainage is proper to ensure proper water runoff to avoid flooding. Our additional lawn care programs & services are an excellent addition to this service to ensure your new sod can flourish and not become damaged due to weeds or insects.
Take Care Of Your New Lawn
Our landscaping services and landscaping programs are perfectly tailored to assist you with looking after your newly-sodded landscape after we install it. We use the best tools and techniques to ensure that your sod not only survives, but flourishes after installation. Contact us today to learn more about our sodding service and how we can help protect your investment.
Contact us today for a FREE, NO OBLIGATION ESTIMATE for sod installation.