Interlock Stone Walkways, Driveways & Patios For Kitchener & Waterloo
Interlock stone is the first choice for those who are looking to create an inviting driveway, front walkway, or patio for their homes. Businesses and commercial properties around Kitchener and Waterloo love interlock because it adds an elegant, high-end touch to the front landscape.
Our trained, professional interlock installers will meet with you to discuss pricing and design, including the paver colours and styles we have to offer.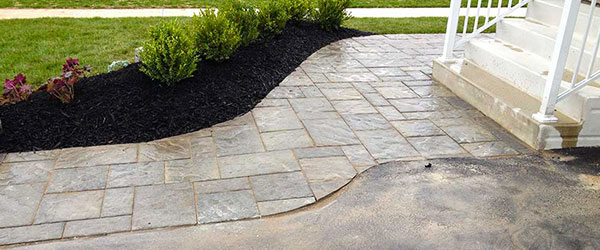 Contact us today for a FREE, NO OBLIGATION ESTIMATE:
Multiple Styles

Interlock stone comes in many different shapes, sizes and colours. With access to all of these variations, we have the perfect interlock combination to compliment your home or business. Combine interlock stone styles and shapes to create a truly beautiful and unique landscape for your property.
Trained, Professional Installation

Our installers are professionally trained to ensure that your interlock driveway, walkway and patio continue to look beautiful for years. We understand that interlock stone can be the focal point of a landscape, and as a result, they need to perform well, look great, and last as long as possible so that your investment is protected.