Snow Removal & Ice Control for Commercial & Residential Properties
Now in our 5th year of business, Yard Worx Landscape has grown to be a leader in the Kitchener/Waterloo area for residential and commercial landscaping and snow removal. Offering snow removal, snow plowing and ice control to the Kitchener, Waterloo and Guelph areas, Yard Worx takes the back-breaking work out of winter for commercial and residential clients.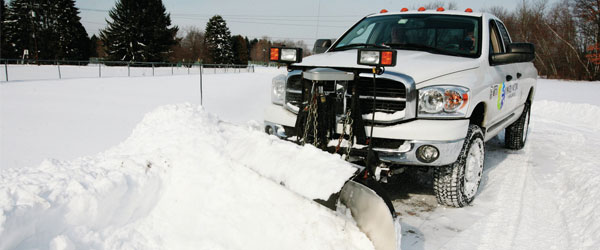 Whether you've already subscribed to our Green Season Programs and would like to add these services to your program, or you would just like to utilize our services during the winter– we have a program that will work for you.
Snow/Ice Removal Program Options:
We offer customized snow and ice control and removal programs to commercial and residential clients. Our snow removal specialists meet with each client individually to better understand the unique requirements of their property.
Each program offers varying services depending on your needs.
Homeowner*
$110/month*
Programs designed and priced around homeowners. Includes the following services:
Features:
Snow Removal**
Additional Salting +$90/month
Or, Learn More >>
* Up to 4-car driveway based on 5-month term.
** Snow removal from snowfalls >5cm
Commercial*
Contact For Quote
Programs are custom designed and priced around the specific needs of your commercial property:
Features:
Industrial and commercial snow plowing.
Snow hauling and snow removal from your property.
Salting and ice control.
Or, Learn More >>
* One, two and five year contract terms
** Snow removal from snowfalls >5cm. Salting starting at 2cm or freezing rain.
*** Contact for free estimate
**** Customize your contract to your needs
Working as your snow removal partner.
With drivers at the ready, our high-tech equipment and mountains of salt already on hand, our 24-7  weather monitoring service ensures that we can respond quickly and appropriately to our client's emergency snow/ice removal situations. Our clients do not need to call and ask us to show up– we'll take care of it!
Get Your Free Estimate >>
Additional landscaping services.
Our services reach far beyond our Snow Removal and Ice Control Programs. Thanks to our years of professional landscaping experience, we are able to offer multiple services to our clients on a year-round basis. Visit our services page to learn more about each service and how they can help make your property stand out from the rest.
Landscaping Services >>
Contact us today and sign up for our Basic Lawn Care Program. Contact Us